I'm struggling to write this article, for it is my last.  Having a successful executive coaching business for 25 years has been thrilling.  And for the past 10 years, I've offered insights and tips in my newsletters.  Writing with such purpose has been a joy.  My ego desperately wants to continue and leaps with joy when I get your feedback.  However, I know my time here is limited, and I don't want to miss my next chapter.
I have a vision board, clear intentions, and no plan.  Yet I know that circumstances will align, and faith will carry me.  I completed a certification to be a Zumba Gold instructor because I love to dance, and I want to stay active and help others do the same.  I'll keep singing, dancing, and playing the organ because music lifts my spirit and motivates me. Now, is my time to experience the freedom of not being "in business".  And though my ego is reluctant to let go, I am committed to savoring this precious time with Ron. 
Life can be difficult, but it's not random. I've reinvented myself before, and I'll use the same steps to do it again. 
This process will work for us all:  
Commit  –  to be, do, and have what you value most.
Connect  –  the best of yourself with the best of others. 
Create  –   a vision of your perfect life.
Challenge  –  yourself to "act as if" you are now in that life.
Complete  –  small daily actions that move you toward your vision.
Celebrate  –  every day with gratitude. 
(Rinse and repeat!) If you're in transition too, perhaps you will join me.  It takes discipline to consciously change but remember that it's always possible.  Setbacks will happen, so re-commit daily if necessary. And know that if you are a former client or a friend in need, I'm always here for you. I'm wired that way. And if you're looking for a coach, I'm happy to refer you.  (There are several that I personally recommend.)  So, keep me in your contacts and reach out anytime!  Thank you for being in my life, and now I bid you a fond farewell.
QUOTES TO REMEMBER
"The space in which we live should be for the person we are becoming now, not for the person we were in the past." — Marie Kondo
"When you can clearly see yourself being there, you can see much more clearly how to get there. You can imagine the path to your dreams, and then start to actually walk it. Play an active role in your own future. Imagine with passion and detail how you'd most like it to be." — Ralph Marston
'Not everything that is faced can be changed.  But nothing can be changed until it is faced." 
— James Baldwin
"Whether you believe you can or you believe you can't, you're right."  — Henry Ford
"We are what we repeatedly do.  Excellence then is not an act, but a habit."  — Aristotle
NOTE FROM LINDA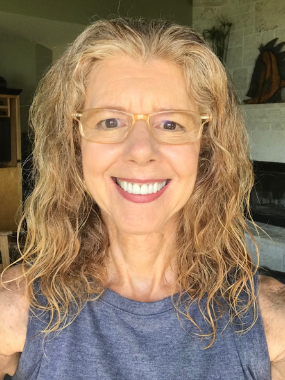 March is unpredictable … and a good metaphor for life!  March 2022 reminds us that weather patterns have changed and are becoming more extreme.  Our country's polarization has become embedded.  We can no longer pretend that our weather, politics, nor way of life are going back to bygone days.  And though the pandemic distanced us, we can't ignore our present reality.  Just like navigating life's many transitions, we'll thrive only when we face things head-on and creatively adapt.  And so it is with me.  I have been blessed with work that I have loved, a thriving business that allowed me to serve, and a husband who provided the foundation I needed to live my potential.  And now, it's time to move on.